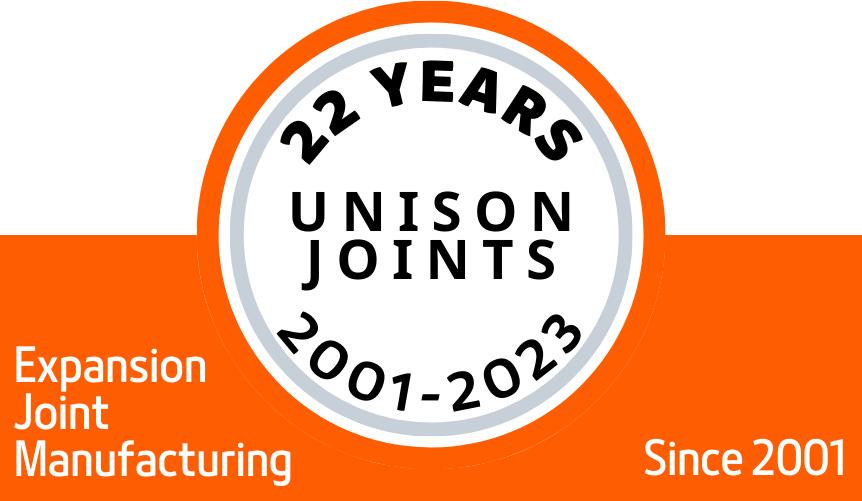 Specialist in Cover Plate & Expansion Joint Design
Unison Joints, making disparate elements one, achieving the look and functionality of connectedness while permitting movement and vibration and preventing water, dust and fire penetration.
Unison Joints Pty Ltd is an Australian owned, Queensland based company, established in 2001 to manufacture and supply movement joint systems for the building and construction industry. Unison specialises in providing innovative products under the management of highly qualified professionals. Unison prides itself on implementing engineered, architectural solutions, sourced through sustainable means to achieve our customers' objectives.
Expertise born of contracting experience
From the beginning Unison has been closely involved with installation of expansion joints. For 13 years Unison undertook installation of these systems using its own specialised contracting business: Unison Constructions. Before 2001 Bernie Scott MD was QBSA licencee and Operations Manager of MEI, a specialist Expansion Joint contracting company which undertook projects throughout Australia and internationally. Bernie/Unison Constructions still hold a commercial QBCC Builders licence. Unison Constructions' staff
experience provided us with unique insight into site stresses and costs. Unison Joints have developed products and procedures to reduce site error and provide efficiency to workflow.​
Supplied Fully Assembled for Faster Installation
Unison Joint is aware of the high cost of site labours. Simple assembly and presetting of floor expansion joint systems can reduce these costs significantly. An example is Unison SeiMax T (Si T) which is not only preset, but factory caulked, providing huge time savings.​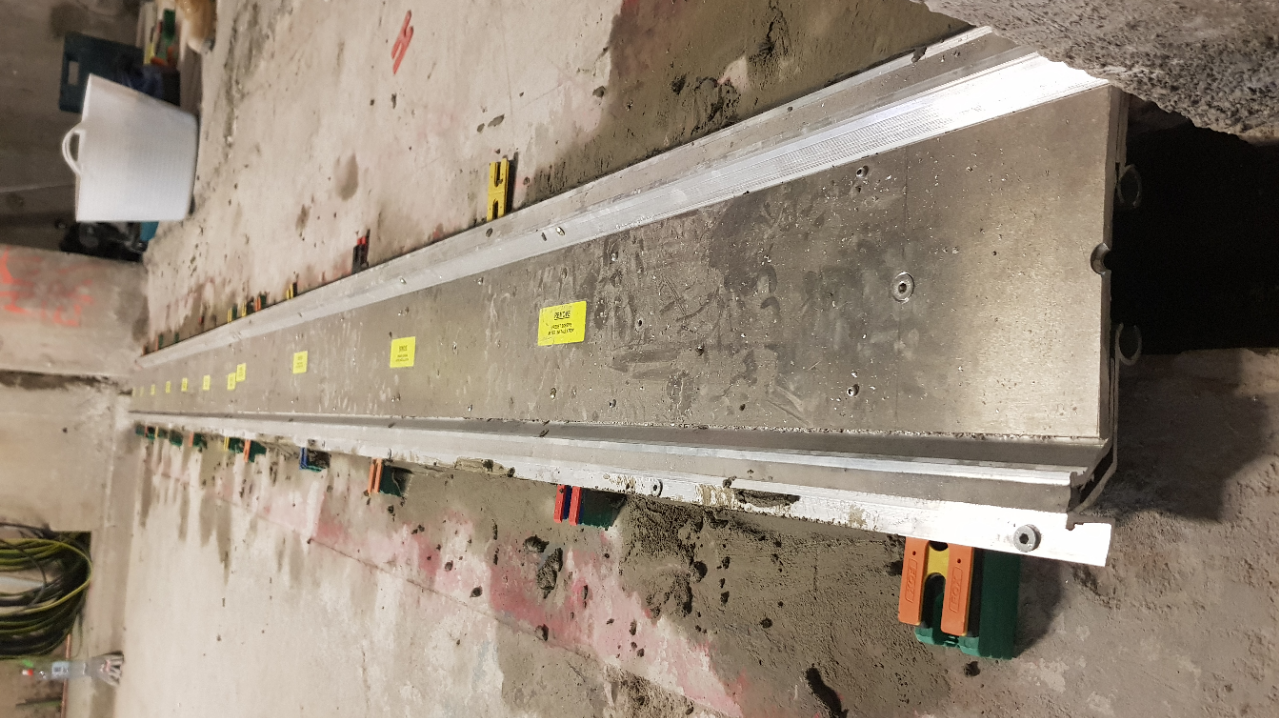 Product Research, Development & Testing
Through our ongoing commitment to product research, development and testing, Unison Joints has established a dedicated team and fully functioning ISO9001 accredited Engineering team to deliver the highest performance joint and cover solutions on the market. We're one of the few specialists cover plate companies in the world and are fully Australian owned and operated.
Engineering and QS Assistance
Unison's in house engineers provide product support and engineering design services to the construction industry. Unison offers a complimentary quantity survey service. Your floor plans are marked up and summarised. Suitable products can then be nominated accordingly. Our 20 year commitment to engineering excellence has produced our wide range of designs and patented solutions, enriched by many years of product testing and experience.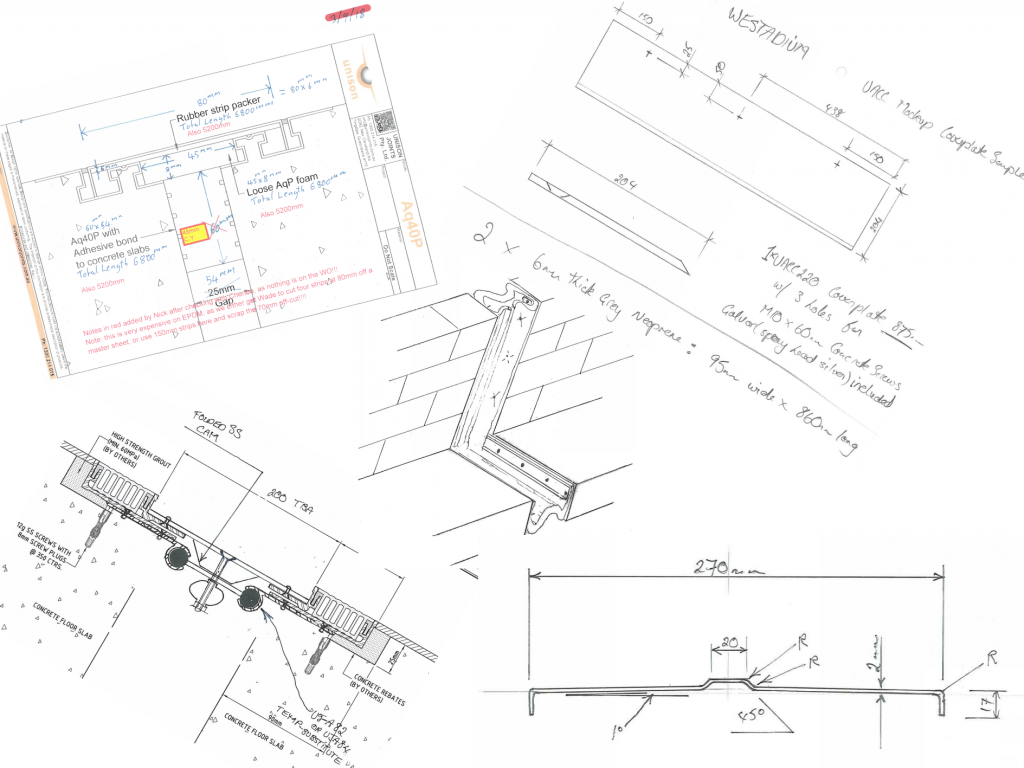 Bespoke Designs- Customised Solutions For You
Approximately one third of our orders are bespoke designs- suitable for specific situations and client's requirements.
If a suitable expansion joint system can't be found within the Unison Joints product range, Unison's engineers will design one. The Unison Expansion Joint products are for use in: Floors, Walls (internal and external) Ceilings, and Roofs. Unison's products are widely used in Hospitals, Multi-story Car-parks, Grandstands & Stadiums, Airport and Transit Terminals, Shopping Centres, Department Stores, and Supermarkets. Unison Joints Pty Ltd develops a close working relationship with each client, fully understanding their needs and employing cost effective and practical solutions for Building Movement Joints.
Our Quality System -ISO9001
At Unison Joints we are committed to quality management standards with a focus on delivering: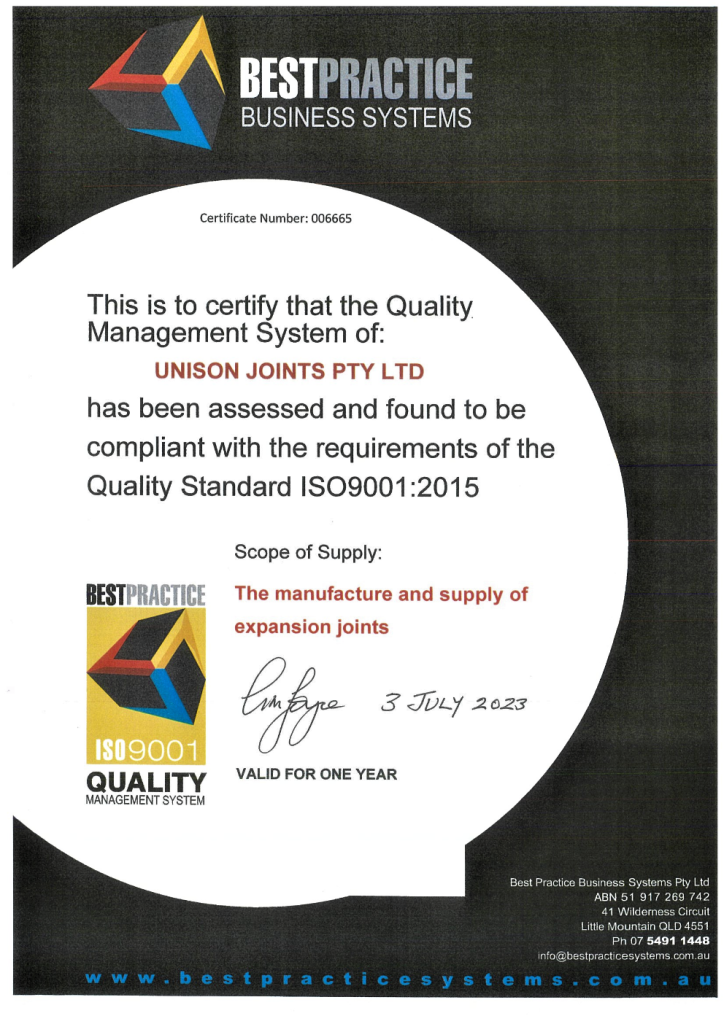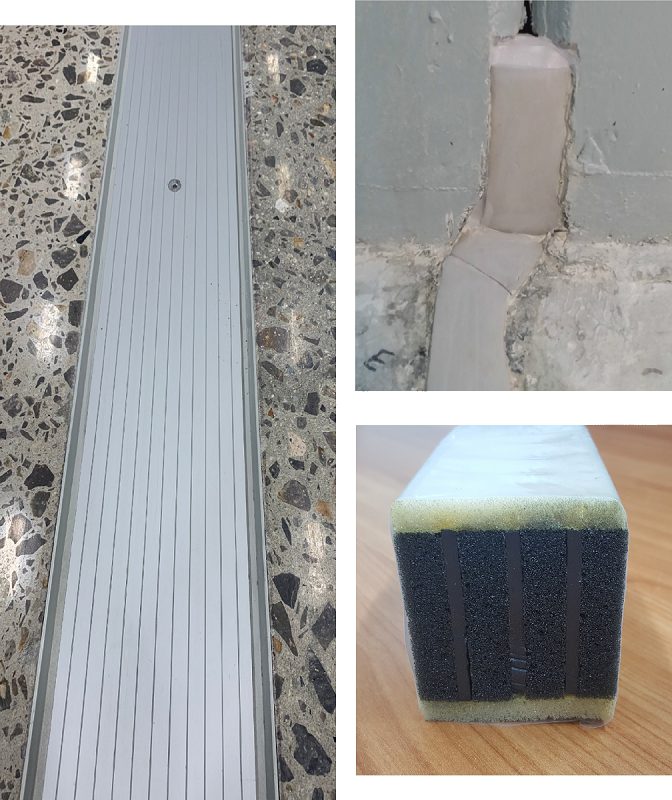 The Aquo P® (AqP) is a 100% watertight expansion joint seal with high movement.
Pyrotx (PyI&PyB) high-movement fire-strips and blankets, which seal gaps from 15mm to 350mm are available. These fire-seals are NATA laboratory tested to Australian and British standards and conform to the National Construction Code.
The Unison Designer Range (Dz) is a heavy and light-duty coverplate system designed to be integrated with polished concrete without an ugly grout line. This system has a unique architectural design, with hidden fasteners.
Global Project Experience- Personalised Attention
Unison have many years experience in Projects throughout Australasia and the Middle East.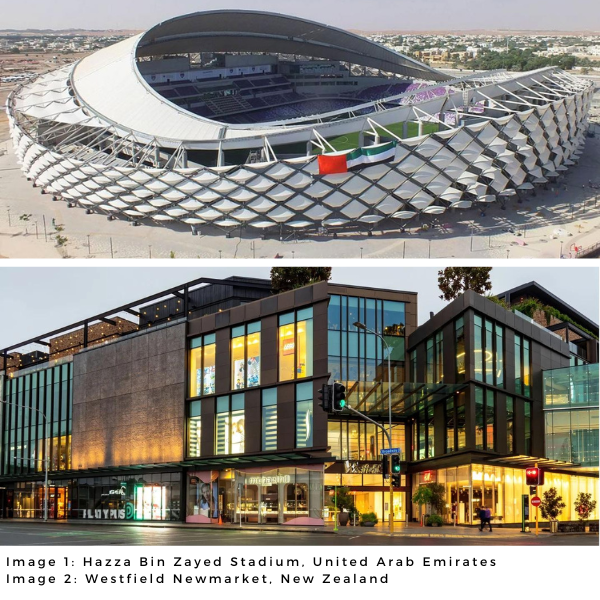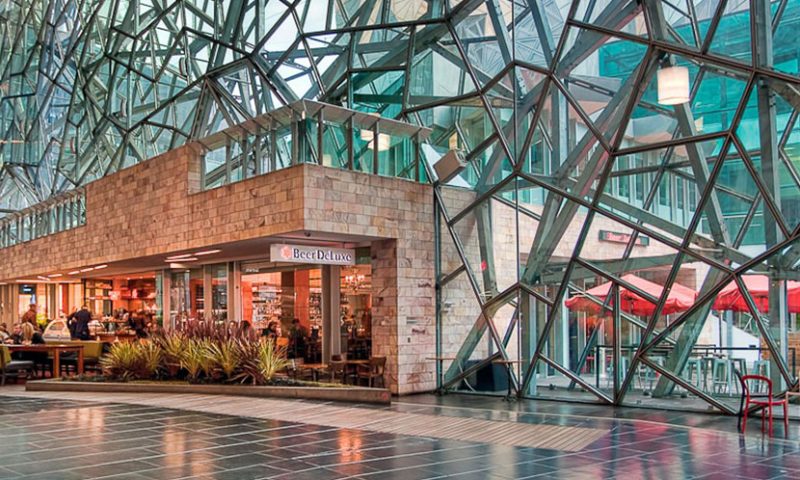 UNISON JOINTS will become recognised as the world's foremost joint manufacturer by our continuous improvement process and commitment to high performance cover plates, fireseals and waterseals, that last longer, work better and protect our client's reputations.
Bernie Scott
Unison Joints Pty Ltd