Expansion Joints for Sporting Arenas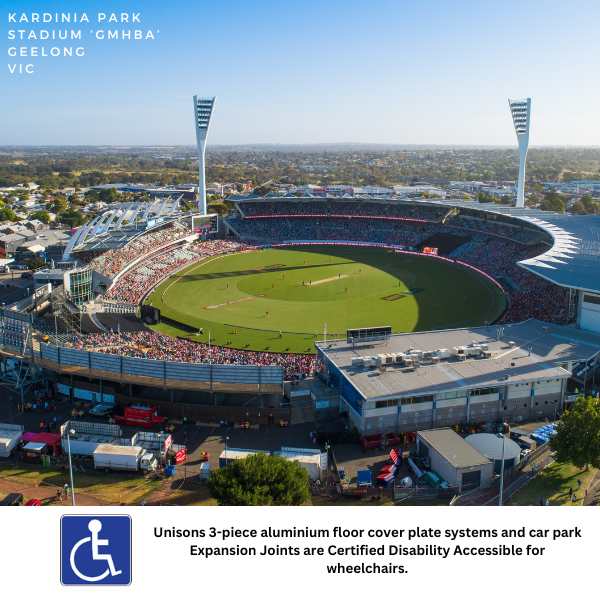 Kardinia Park Stadium – GMHBA – Geelong Victoria
| | |
| --- | --- |
| Year: | 2023 |
| Construction Value: | $142 Million |
| Architect / Designer: | Populous and Urbis |
| Builder: | Watpac |
| Scope: | To supply over 1000 metres of Expansion Joint systems including fire, water & floor systems to architects specification. |
| Products: | Py I; Py B; Dz D; Aquo P; Fx CH /Fx CHT; By NF Aq P |
Redevelopment Stage 5 – Unison Joints Specified
Why were Unison specified:
30 + years of stadium Expansion Joint installation experience
Proven longevity of our products
No leaks in the seating plats
Aquo-P is the perfect water seal system
P5 slip resistant cover plates
Australian made fire seals are tested and certified to AS 1530.4 AS 4072.1 & BS 476.2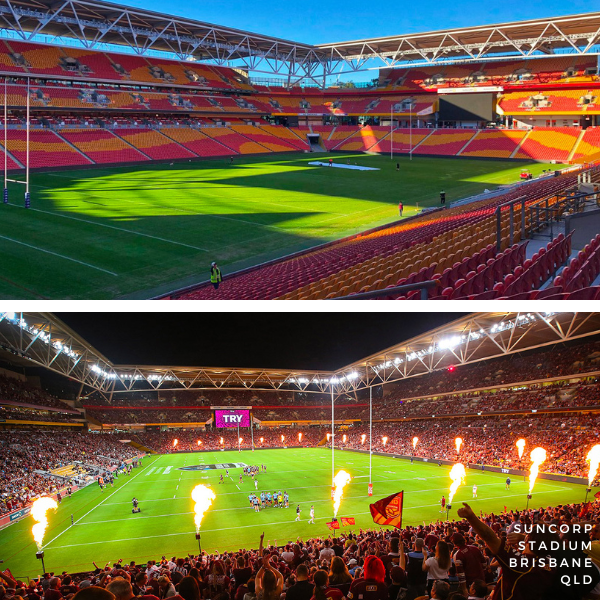 Suncorp Stadium Expansion Joint Refurbishment QLD
| | |
| --- | --- |
| Year: | 2018 |
| Owner: | Stadiums QLD |
| Installation: | Duratec Australia |
| Scope: | Replace failed leaking Expansion Joint systems. |
| Products: | Aquo P; Acc C; Dz FTAq |
As is common in other stadiums, there are major movement gaps which divide the structural concrete frame, from top to bottom, at four designed positions around the building.
There had been considerable leaking due to the failing joints – not Unisons,  initially installed and in 2016. These gaps were often the cause of water inundation and was a hazard to the general public.
Expansion Joints Systems Supplied:
567.2 metres of floor & wall Expansion Joints systems, including closed cell foam water proof seal with rubber topping made from recycled truck tyres in Australia. The rubber tread top layer protects the waterproof seal. Can be used in carparks too.
Optus Stadium – Perth WA
| | |
| --- | --- |
| Year: | 2016 |
| Construction Value: | $862 million |
| Developer: | Venues West – HBF Arena |
| Architect / Designer: | Cox Architecture and Hassells Pty Ltd |
| Builder: | Multiplex Pty Ltd |
| Scope: | Supply 3198 metres of all Expansion Joint systems including water proofing seating plats & fire rating expansion joints for 60,000 seated multi-purpose stadium. |
| Products: | Aquo P; Py I; Py B; Dz H; Acc C; Fx CH /Fx CHT |
2016 – 2018 New Construction 
Expansion Joint Systems Supplied:
Expansion Joint 100% watertight seals
Water proof gland
Fire resistant Expansion Joint seal certified to AS 1530.4 AS 4072.1 & BS 476.20.
Heavy-Duty low-profile aluminium mechanical system
Expansion joint vertical wall systems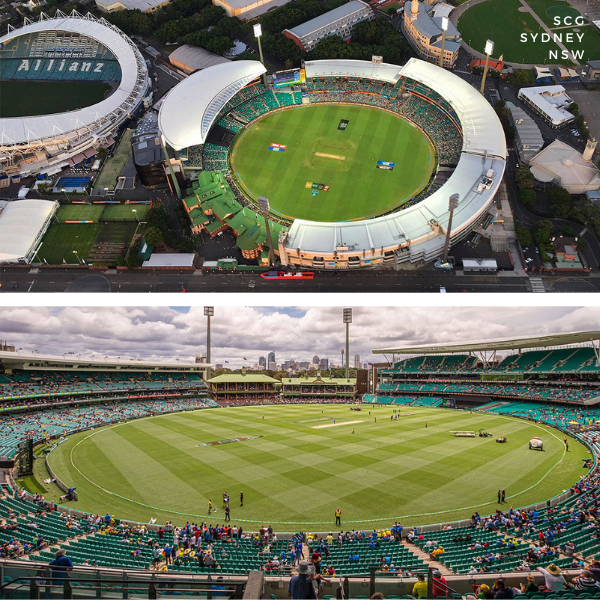 Sydney Cricket Ground - SCG Redevelopment
| | |
| --- | --- |
| Year: | 2014 |
| Construction Value: | $197.5 Million |
| Owner: | Government of NSW |
| Architect / Designer: | Cox Architecture |
| Builder: | AW Edwards |
| Scope: | Supplied 387 metres of Expansion Joint cover plates – aluminium and stainless steel, including seismic joints, Fire resistant blanket, Waterproof seal and Pathogenic dual seal. |
| Products: | Py B; Aquo P; Dz FTAq; Acc C; Dz D; Si By; Fx C; Mo DL |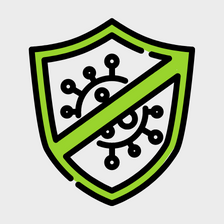 Anti-pathogenic expansion seal